I've begun a new painting commission.
A sweet old yellow Labrador Retriever named Cody has had a job since he was a pup: he brings the morning newspaper from his family's front yard into the house, sits, delivers it to his "man", gets his daily wage (a biscuit or two does the trick), then takes a break. (I loved hearing how, when Cody was young, his owner stepped onto the front porch one morning and discovered every paper from the neighborhood all piled up, with the dog hovering over them proudly as he waited for that biscuit!).
So this artist's task is to capture Cody doing his job, bringing the paper, aiming to please, driven by the sweet, gentle, God-given nature nestled deep in his little soul, which just can't rest until that newspaper is where it belongs.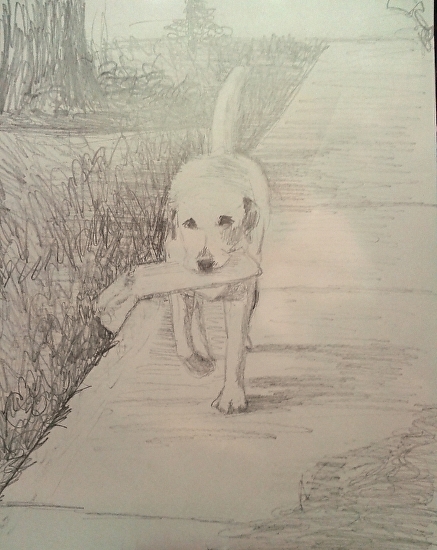 We took video footage, and I found just the right moment for just the right pose.
This is the sketch I created for a composition to show to Cody's owners.
Comment on or Share this Article
---
---
---
---
---
---
---
---
---
---